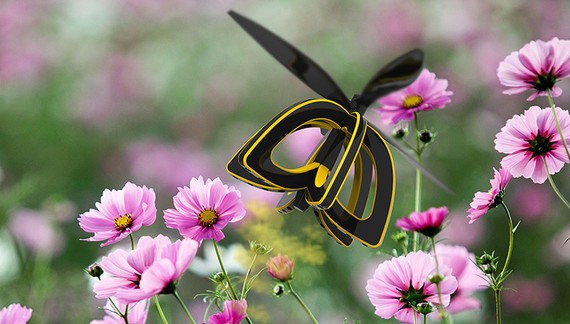 Plan Bee, A Bees Best Friend
This little drone could become crucial if bee populations continue to decline.
Earlier this year, the Center for Biological Diversity released a report on the current status of bee populations in the U.S. It states that nearly 1 in 4 native bee species are declining at risk of extinction. This is due to factors such as pesticides, habitat destruction, urbanization and other issues. This bad news for our little winged friends, along with being problematic for farmers, who rely on bees to pollinate their crops.
It's time for humans to step up and help restore bee populations as well as making sure plants still get pollinated. Industrial design student Anna Haldewang, who attends The Savannah College of Art and Design, has come up with an amazingly cool concept: a bee-inspired drone.
'Plan Bee' drone pollinates flowers when real bees are struggling
 Anna has named her creation "Plan Bee," a drone that artificially pollinates flowers on behalf of bees. Plan Bee is made of black and yellow plastic and foam and controlled by a smart-devise.
After 50 design variations, Haldewang settled on what you see pictured. Plan Bee has a flower shape (when flipped upside down), while keeping the classic black and yellow color palette of a bumblebee. The drone's body has tiny holes underneath that suck up pollen as it hovers over one flower then blows the pollen out over other flowers.
Save
Save
Save
Save
Save
Save
Save
Save
Save
Save
Save
Save
Save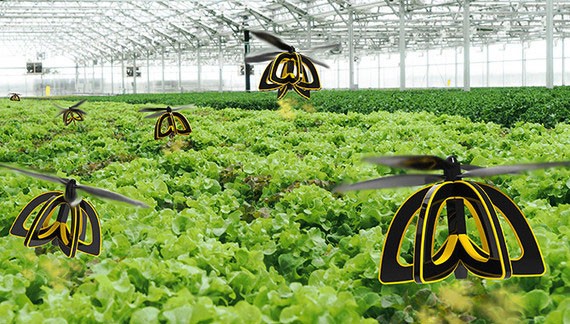 'Plan Bee' Drone As An Educator
While the drone certainly has great potential in the farming sector, Haldewang would also like to see it being used for education. Because the device is much larger than a bee, the drone demonstrates the cross-pollination process in a way that could be educational.
Scott Painter, COO of Birds Eye Aerial Drones, "The potential for this drone to revolutionize the agricultural education field is astronomical."
While the Plan Bee drone is still being refined, Haldewang has already filed a patent application and hopes to have a product ready-for-market within two years. 
How to do your part!
If you want to do your part in helping save native bee species, you can create a welcoming habitat for them in your yard. 
http://birdseyeaerialdrones.com/
Save
Save
Save
Save
Save
Save
Save
Save
Save
Save
Save
Save
Save